I've discussed Assassin's Creed previously, though not at any significant length. I couldn't even call what I said a 'review' with any fairness, since I only played a bit of the game. There were a few things I liked about the first game, such as the environments, the framing element of the story and the stealth-focused means of assassinating people pretending to be pious. However, the seemingly shameless padding of always restarting from the top of Alamut, doing a specific set of tasks to gather intelligence and the inevitable rousing of Desmond from his recollections of his time as Altair for some exposition dispensed in the somewhat bland near-future setting. The sequel of that game begins by sneaking up behind those elements, breaking their necks and tossing them from the nearest balcony.
Sam Fisher wishes he looked this good.
Assassin's Creed II begins with Desmond being liberated from the laboratory of Abstergo Industries where Dr Breen Vidic has held him hostage. Kristen Bell Lucy orchestrates this liberation and takes him to a secret hideout where a snarky British bookworm and a relatively cute tech-inclined girl have assembled an "improved" version of the Animus device that took Desmond back in time to relive Altair's memories. This time, they need him to enter the persona of a different ancestor, in order to actually learn assassin skills rather than just watching them happen. The ancestor in question is one Ezio Auditore de Firenze, and if I'm honest, he very quickly became one of my favorite video game protagonists of recent memory.
When we first meet Ezio as a young man, he's a brash, carefree, womanizing and somewhat selfish rich kid. But he's also charming, handsome, cares about his family and isn't unintelligent or dull. The setting of the game, Italy during the Renaissance, is incredibly immersive, partially because of the painstakingly rendered cities and partially because of the voice acting. Maybe it's the talent and maybe it's the Italian, but the passion of these characters comes through the pixels very easily and pulls the player in almost immediately. The characters aren't quite as realistically rendered as in, say, Dragon Age, but it's rare to see the characters in Assassin's Creed II come down with the "BioWare face".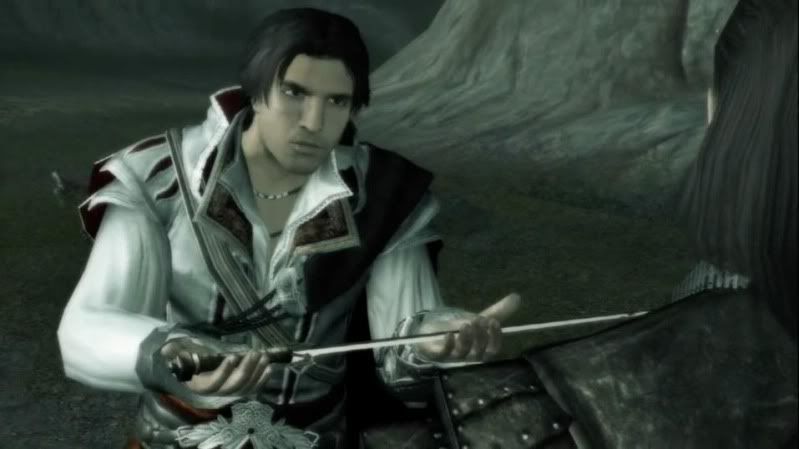 The point to this is that Ezio exhibits growth, which I really appreciated. The young man we meet when Desmond first enters the Animus is not the same man who travels to Tuscany and later Venice as he hunts down his targets. Speaking of the Animus, the scenes outside of Italy back in the near-future have been cut down significantly to a few key scenes throughout the game. The nice thing about this, other than spending most of our time with Ezio doing pretty much whatever we like, is that the near-future scenes never feel terribly superfluous, as we learn more about what the struggle between the Assassins and the Templars is like in the near-future as opposed to how it works in the Renaissance.
The story in Assassin's Creed II also becomes infused with the kind of material that make the conspiracies of Hideo Kojima's games seem like a badly written episode of Heroes. From his previous over-exposure to the Animus, Desmond has acquired the 'eagle vision' used by his ancestors, and found some messages written in blood back at Abstergo by the room's previous occupant, 'Subject 16'. Slightly insane thanks to Abstergo's experiments, he managed to hack the Animus and place clues throughout the landscape for Desmond to uncover, leading him to the 'Pieces of Eden' that the Templars desperately want to acquire. These are ancient artifacts of unspeakable power that have been handed down through the ages, and the Assassins and Templars have each struggled to get their hands on them. No further information on Subject 16 is available, but his voice is so familiar…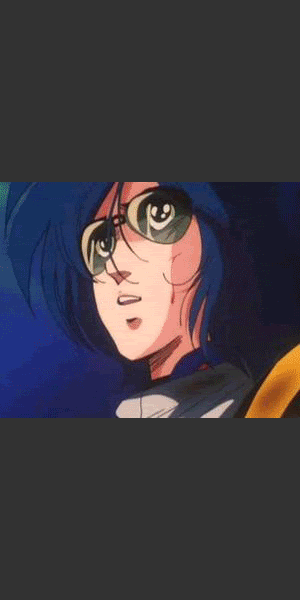 Possible identities of Subject 16…
Instead of restricting the player to a specific series of tasks that need to be completed before stabbing somebody, Assassin's Creed II allows you a lot more freedom. The free-running game-play is just as fun and intuitive as the previous title, though some players might be frustrated by sections that actually require precision platforming to do some puzzle-solving. Also, there's a side-quest involving Ezio acquiring art and fixing up storefronts around his home villa to increase his income, but other than buying better weapons you never really need as much money as you get. While I appreciate the fact that there's an in-game explanation for money being a non-issue for Ezio, there comes a point where you're getting a lot more money than you know what to do with, and the best armor in the game is actually available for free if you can stand the aforementioned platform puzzle bits. You don't even have to touch the villa if you really don't want to, and don't mind coming home to a termite-infested flophouse every time you have Leonardo decipher another few Codex pages, as the side missions all pay you money anyway. Of course some of the locals can smell the aroma of flesh florins on you, and wandering minstrels come out of the woodwork to ply you for some with badly-sung ballads they'll warble at you until you shut them up, be it with coin-tossing or the back of your hand. I'm probably getting a bit nit-picky at this point, but bear with me, I've only got one more nit to pick, and that's the combat.
I appreciate that the game allows us to see how badass Ezio becomes, and since he's so impressively killative, the combat never feels terribly challenging once you master the counter and dodge moves. While this might seem a little too easy for some, and I for one never felt like Ezio was truly in mortal danger, the player has the opportunity to sit back and try different things when a fight happens. Bored with the sword? Pull out the dagger for a bit. Do you like that poleaxe a Brute is trying to shove down your throat? Grab it from him and hit him in the face. The options available to Ezio do ease the tedium of the combat a bit, and I'd even go so far as to say that the tedious nature of combat works in the game's favor. While it isn't hard for the most part, being tedious means a player might not want to waste time with it, opting instead to hire a few hookers as a distraction, parkour themselves into place for an optimum kill or find other creative ways to clear the path between Ezio and his unfortunate target. As an aside, try poisoning one of the guards and then throwing money at the feet of a nearby crowd. Trust me.
Stuff I Liked: The music, voice acting, story elements and controls remain some of the better points of this growing series of games. Also, the ending of the game first has Ezio do something incredibly ballsy and awesome and follows that with some of the best busting of the fourth wall I've seen since I read the Deadpool comic book.
Stuff I Didn't Like: I would have much rather gotten more use out of Leonardo's flying machine or more dialog with Paola or Bartolomeo than have as much to do with the villa as we did.
Stuff I Loved: There's an incredible sense of freedom to be experienced in Assassin's Creed II that I for one really appreciated. Provided you don't run around hacking up innocents, you can do pretty much anything you like in the beautiful setting of Renaissance Italy, and that in and of itself is tons of fun. "Everything is permitted" indeed.
Bottom Line: I recommend that you rent the game first if you're unsure about it. Also, playing the first game isn't a requirement, but you might have a better understanding of the game and its setting if you do so. Either way, there's a lot to like about this game, and I consider it worth the money of a purchase.