Here, take this. It's my zombie card. I'm turning it in because as of this writing, I have never read the graphic novel The Walking Dead, nor have I tuned in for the television series. What I know of the series has been gathered from snippets of others' conversations, posts on Tumblr, and good old-fashioned deductive reasoning. I know it's a zombie cataclysm tale ('apocalypse' is an inappropriate word as it means 'revelation' and not 'disaster'), there are only a handful of survivors, they squabble among themselves because homo homini lupus, and one of the survivors on the TV series played Murphy McManus from The Boondock Saints. So I downloaded the episodic video game of the same name developed by Telltale Games with only the barest knowledge of what I was in for.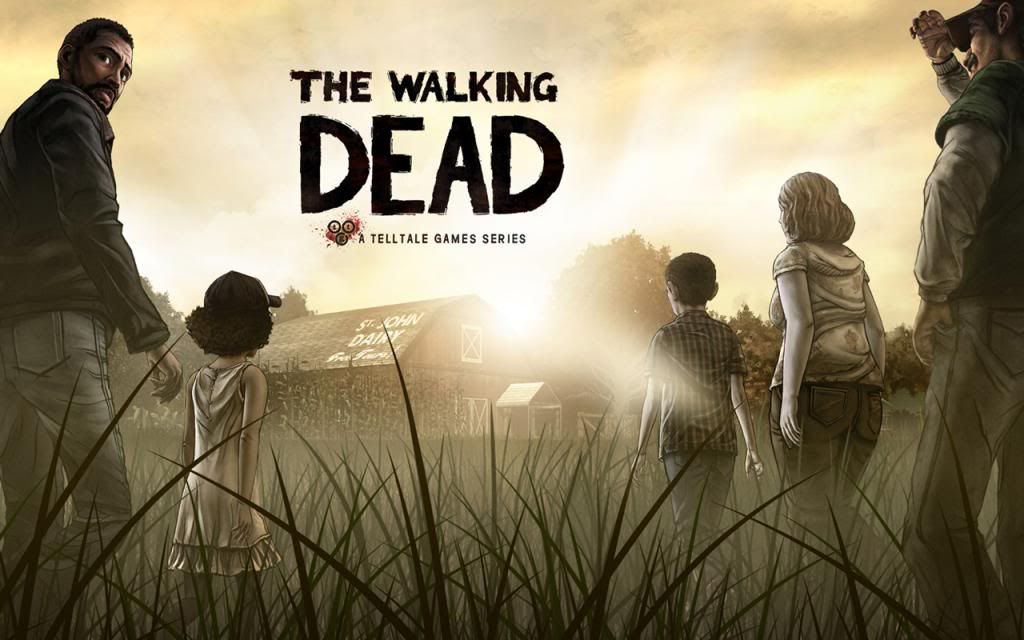 Our story begins with Lee, a college professor, handcuffed in the back of a police car on the highway out of Atlanta. While the police scanner carries information regarding some sort of city-wide disturbance, the officer behind the wheel seems more interested in his own stories, and determining if Lee is, in fact, guilty of whatever he's accused of. The car hits someone walking across the highway, and in the resulting crash, the police officer is killed. Lee struggles out of the car and with his cuffs before the police officer reaches for him, but more due to an appetite for brains than as a plea for help. It is only the first of many challenges Lee will face, and considering some of the choices that lay ahead, it may well be one of the easiest.
Once you get into the game, you will discover that you have stepped not into a shooter or even an RPG, but something far more reminiscent of games gone by. Playing this game reminded me of long nights of pixel-hunting in the likes of Indiana Jones and the Fate of Atlantis, Day of the Tentacle, Grim Fandango, and Full Throttle. Telltale has done episodic adventure games in the past, but many of them have seemed to be more whimsical fare, at least in presentation. The Walking Dead is quite earnest in its subject matter, its writing, and its characterization. There are going to be some characters you downright hate in this game, but they're so well written and acted that even as you want to hit them, you can understand the motivations behind their unreasonableness for the most part.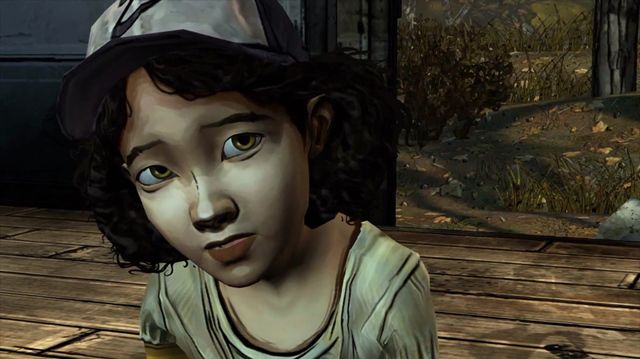 But by far, the standout character is Clementine. Normally, child characters are either irritating to the point of losing all sympathy or become a huge burden to the adult characters through either their own ill-conceived actions or exploitation by others. Clementine, however, is different. At eight years old, she manages to survive outside her parents' house and helps Lee when he arrives. She has a very solid sense of right and wrong, and some of Lee's choices involve whether or not to tell her the truth. She will remember if you lie to her, as well; The Walking Dead does a great job of keeping track of choices Lee makes, big or small. It feels very natural to have characters reference things that happened two or three episodes ago as you go about trying to stay alive and sane in the wake of unchecked horror.
So the story is good and the characters top-notch; what about the gameplay? Well, that may be one of the biggest strikes against The Walking Dead. As a point-and-click adventure game, there isn't a whole lot of actual game to be had. While some items can be small or hard to see even as you move your mouse all over the screen, none of the puzzles are terribly complex. What combat there is exists in a very simplified form, and while the occasional timed sequence does liven things up, hammering the Q key to escape the grip of a zombie is about the most complex thing you'll do to fight the undead. Then again, there are plenty of games and mods out there if all you want to do is blow off zombie heads with a shotgun like you're in Army of Darkness or something.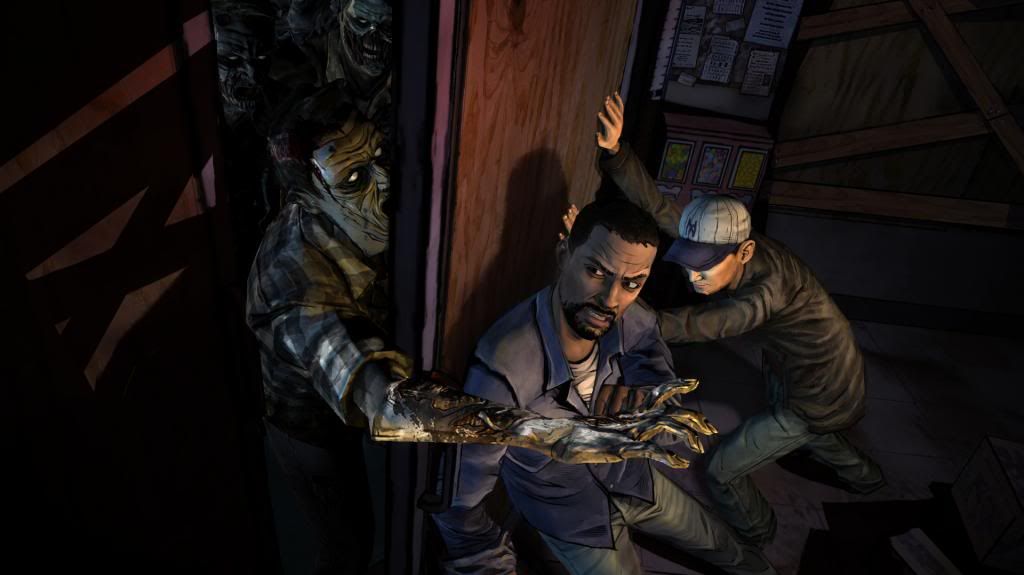 "I said, we're closed!"
There are two modes of gameplay, one which gives you hints and tips as you play regarding where to click on items and what results will come of the choices you make, and one that keeps the UI as minimal as possible to maximize your immersion. As much as I preferred the second mode, as it yanked me into the story in an incredibly absorbing way, the first is good for those who are unfamiliar with adventure games or terrible at puzzles. With the hints on, the story is not held up by your hunt for the right battery or candy bar. Turn them off, and the atmosphere and tension increase significantly. As much as the straightforward design of the game could be seen as something of a flaw, the power of the narrative and the humanity of the characters is what stands out, and the game has the good sense not to get in its own way. The cell-shaded art style harkens to the graphic novel, while the character's voices and the game's episodic nature gives the TV show vibe. It's the best of both worlds, and you get to put the boot into some zombies yourself rather than reading about or watching other people do it. I don't see how this isn't a win all around.
Stuff I Liked: The way characters' prejudices and preconceptions come into play naturally, and are discussed with maturity. The natural flow of dialog. The environments that provide diversity and move the story along without feeling forced or out of place.
Stuff I Didn't Like: Occasionally characters moved with stiffness or unnaturalness, and I'm not talking about the Walkers. A bit more puzzle variety might have been nice. I hope your Q key is in good shape.
Stuff I Loved: Lee. Clementine. The subtle soundtrack. The way friendships were formed and tested. The very real handling of matters like food supplies, fuel, and human understanding in the face of the ongoing calamity. The moments that made me stop and think, or gasp in alarm, or well up.
Bottom Line: The Walking Dead wants to tell you a story. It wants to bring you into this vision of our world and show you what can happen when people are thrown together due to something beyond their control. It seeks to use zombies the way they're most effective: not as target practice, but as a means to show humanity at its absolute worst and its undeniable best. It does all of these things extremely well, and you should definitely invite it into your home to do its thing.