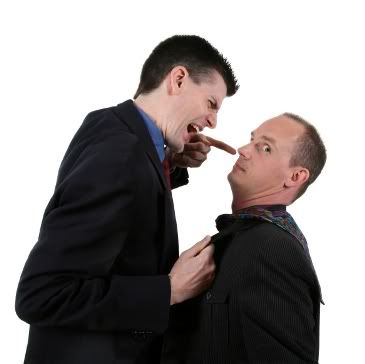 We live in an increasingly interconnected world. It is not difficult to access information that can inform you of all sorts of points of view. It does, however, take time. And time is a precious thing when events are unfolding regarding a controversy or an otherwise unfortunate event. Snap judgements and knee-jerk reactions make for more inflammatory headlines – and more exciting reading.
The problem is that this leads to extremist thinking. Be a person firmly entrenched in one side of an issue, or the other, such entrenchment leads to antagonistic stances. Now, it's easy to cast people who are using violence, intimidation, or group-based fear tactics as nothing but villainous thugs, and such methods of persuasion are always unnecessary, and any rational human being would agree to that. That is an easy admission to make, given the circumstances, and a lot of extremists have played lip service to that idea, but it is a lot more difficult to admit that extremism, even in opposition to terror, is wrong.
I've commented on the nature of polities before. It is actually somewhat rare for an entire polity to be monolithic in its composition. For the most part, people who have a similar viewpoint on an issue can and do vary wildly in how to approach that viewpoint and the best way to express it. On top of that, there are those who take up the banner of the polity in question but are in reality using it for entirely different goals than the polity's leaders or expressed core values. Suffice it to say that once a movement begins, without strong leadership and defined goals, things can get very confused very quickly.
This is to be expected. We are, after all, talking about people.
People have hopes and dreams. They have fears and desires. They need food and water. They crave sex and sweets. They have passions they long to share, and embarrassing moments they long to forget. They'll laugh and cry. They'll argue and concede. They will get sick, bleed, grow old, and eventually die. And so will you.
I have a difficult time understanding how people can become involved with extremist points of view. Be it one extreme of a debate or the other, I find it a very bad idea to assume that everyone on the other side of the debate is either an absolutely deplorable creature or a total ignoramus. I find myself questioning why people, living breathing human beings with at least a measure of literacy and self-awareness, put themselves in positions that are entirely intractable. The best answer I can come up with – and I have no idea if this is the most accurate one or not – is laziness. They are just too lazy to imagine the other complexly. And I can understand that – I've withdrawn from arguments, myself, too exhausted or frustrated or confused to invest the time and energy to follow a logical line of thought. I think it happens to the best of us.
If I were able to give advice to people involved in a debate that I knew would be taken seriously and to heart, it would be this: Stop. Breathe. Think.
You can't hear what the other person is saying if you keep talking. Taking a deep breath clears your head and opens your ears, allowing you the chance to process what you're hearing. And once you process the words, you can try to discern meaning, and find ways to bridge the gap towards understanding. Even if you still disagree with what's being said, you may have a better chance to find the means to express your disagreement without attacking the person with whom you disagree. Because that way lies ire, anger, bile, hatred, and even threats.
Too many people take the lazy shortcut to that end step. Don't do that. The shortcuts lead nowhere constructive. To make the world a better place, to ensure change that matters, we have to take the long way. The higher road. And when you take those steps, it's important to take your time. Stop. Breathe. Think.
Not only will you not come across as a lazy extremist douchebag, you just might understand another person's point of view a bit more completely. And if more of us can do that, the world will be a better place for everyone – every human being – to live.