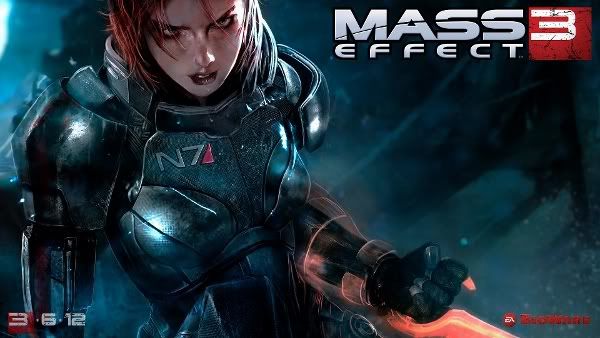 If you have any connection whatsoever to video games in general, you know Mass Effect 3 got released yesterday. Reviews are up all over the place, including this great one at the Escapist, along with the requisite whining from entitled gamers about how the DLC issue should have prompted a boycott and conversations about leaked ending footage, blah blah blah. For me it's off to a good start, even if the character of Jason Vega is a little ridiculous, but what has my attention, not just as a gamer but as a writer, is how tense everything feels.
In the previous game, there was a lack of urgency save for the very last mission. You could putter around the galaxy doing whatever you liked and there was no consequence for it. I highly doubt Mass Effect 3 will punish me for going after side-quests or taking time to chat people up, but now I have a feeling for the stakes right from the beginning. The threat is not imminent or implied – it's here, and needs to be dealt with now.
This feeling of tension is bleeding into the dialog. BioWare's always been decent at characterization through conversation, and so far this game is living up to their other best titles. There have already been moments within the scant few hours I've played where characters have left things unsaid, conveying emotion far more deeply in the spaces between words than in the words themselves. While some of these moments are open to interpretation based on how you personally want to play the game, the fact that this depth and complexity exists at all in a modern AAA shooting game earns early top marks from me.
Deus Ex: Human Revolution did this, too. Being a man of few words, Adam didn't always say exactly what was on his mind. Especially after the attack that lead him to becoming an augmented one-man assault force, he plays things close to his ballistic vest. The nature of the dialog bosses and the moment when he reaches what he believes to be his ultimate goal make great use of tension. It's clear evidence that the right word, spoken or unspoken, can have just as much power as a well-placed bullet.
In games it's very easy to let the dialog fill in expository gaps to get the player from one shooting gallery to the next. It's far more difficult to make the player care about the pixelated people involved in the action. By showing instead of telling, by keeping this tension high and filling conversations with hesitation and uncertainty, the writers give the action that follows more weight. We don't just want to survive the firefight or earn the rewards or teabag the bag guys. We want to find out what happens after, what the next conversation holds, if the guy gets the girl (or guy) who clearly wants to their feelings to be noticed even if they don't say anything about them, if an issue is going to be dealt with or avoided… It's the tension, not the shooting, that keeps the narrative moving. This isn't just a good thing. It's a great thing.
You can, and should, do this as well in your writing. By keeping conversations tight and holding back on exposition and explanation, you make your reader want to know more. The promise of answers, not necessarily the delivery, is what will compel them to keep reading. While some stories may dangle the carrot of satisfying answers in front of you until the end before slapping you with the stick of deus ex machina or some other form of bait-and-switch, good ones leave things unanswered entirely so readers keep thinking about the story after it's done. Did Richard and Pixel live after The Cat Who Walks Through Walls? What happened after the end of Serenity? Did Cobb actually make it home at the end of Inception? What's Coburn's next move after the end of Double Dead? So on and so forth. These stories raise questions at the beginning and answer them at the end, with plenty of tension in the middle and enough left at the end to leave us wanting more.
If Mass Effect 3 can pull this off, I'll be quite pleased. And if it doesn't, you'll be damn sure I'll tell you about it.