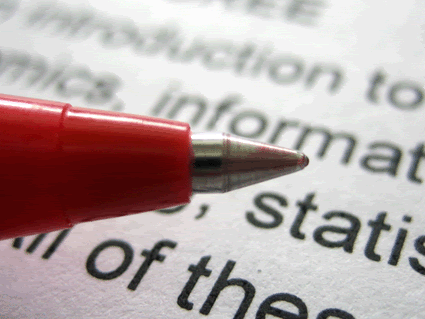 Let's say you're a writer. You like, love, need to write. Ideas, characters, plots and events chase each other around in your noodle while you're collating TPS reports, shoveling coal or telling morons the bleedingly obvious. You want to bring them to life, invite other people into the worlds and lives you create, provide a small measure of escape and solace to your fellow man through the art of the written word.
Or maybe you just want to make a quick buck. You're tired of the commute, the daily officer routine, the dirty or suspicious looks from your boss and you believe you can write your way out of it.
Well, I commend your ambition and can sympathize with whatever sentiment that's motivating you, but you need to be aware of a harsh truth that might be difficult to swallow. You might be aware of it, peripherally, or because writers much better than me have already issued similar warnings. But here it is: Getting published sucks.
If it were easy, everybody would do it. A thousand gamers and a million housewives and a billion Harry Potter fans would be getting their work published and making money if the process weren't soul-grindingly difficult. And it's not difficult in the way algebra or biochemistry can be, it's difficult in that it curts right past the idealism and imagination that got you writing in the first place and dumps you without preamble into the ice-cold shower of reality.
Let me hand you the soap. You don't want to bend over.
Finding an Agent Sucks
I hope you like rejection.
Who am I kidding? Nobody likes that. I can't think of a single person who breaks into a smile when they're told something they've worked hard on sucks. Even when the creative person can admit it to themselves, it's a tough thing to face and harder to overcome. And just when you think you have overcome it, refined that lump of coal into a diamond, polished that work until it shines?
"Sorry, this isn't good enough."
Not good enough for the market. Not good enough for the agency. Not good enough for the individual agent's taste. Just. Not. Good. Enough.
It's what every form rejection letter boils down to. And let's face, agents are busy as hell. They get flooded with queries, full-out manuscripts, love letters and blatant bribes every day. They can't respond in person to every single one. So they use the form letter. Nine times out of ten, it isn't personal. They don't mean to come off like they don't care. It's not their intent to act like your hard work will never amount to anything.
But boy, the write can certainly feel that way.
The payoff, though, is that when you do get the attention of the right agent at the right time, you have a voice in the publishing community. Somebody with established credentials is now on your side. They have the pulse of the market. They know who to talk to, where to go, what to say to get your work into the hands of someone willing to put it in front of readers everywhere.
They will go to the mat for you and you will love them for it.
You just have to find them first. If you can.
Publishing Yourself Sucks
Fuck that! I have sent queries all over the place and gotten nowhere. I'm even more miserable and broke now than I was a year ago when I finally finished my seventeenth draft! I'm hip! I'm with it! I'm a digital native! I'm gonna publish myself, dammit!
Not so fast there, Sparky.
First and foremost, let me point you in the direction of someone who's been out there, who's seen what it's like to face the demons on Amazon and those Barnes & Noble guys, who wrestled with what to do and what not to do with his bare gorram hands while bringing a child into this world.
BAM.
Get it? I hope so. You take a walk down the road of self-publication, you are in for just as much work and heartache as finding the right agent, if not moreso. There are a thousand things an agent will do for you in the course of a day if you're fortunate enough to retain their services. There's networking, marketing, promotion, pricing and contracts, a heaping handful of moving parts that keep the machine of your dreams humming along towards actually getting paid for your work.
Without an agent, take a guess who needs to do all of that.
If you guessed yourself, give yourself a No-Prize.
Let's compare the two tracks. If you pursue an agent, after months (if not longer) of rejection you finally get one's attention and they like your work enough to represent it. You might need to do a couple more edits before the work is ready for prime time, but once it is you and your agent can work together to get it out there.
Go your own way, and you'll need to bother a lot of people on your own. Relative strangers to give you honest test readings. Maybe an editor if you're pressed for time. Definitely a professional cover artist (you do want people to check out your book, right?). You'll need to set the type yourself to make sure the finished product looks good on mobile devices. Then you need to get it onto the marketplaces people use and promote the hell out of it. Offer incentives. Get reviews and post them everywhere. Shill until your voice hurts and your fingers are sore.
Neither of those seems like very much fun, do they?
Doing Nothing Sucks
There's a third option, of course.
You could just do nothing with your work. Write for your own enjoyment. Maybe post your work on a blog or a forum, if you have time. After all, who needs that aggravation? It's a huge expenditure of time and energy and it's going to frustrate you, depress you, enrage you and wear you out. You need that energy and time for things. Chores. Trips. Games. Chatting up attractive members of the opposite sex.
Of course, if you do nothing with your work, nothing will come of it.
You get what you give. Just give it to a forum or a blog with a couple viewers and you'll get a couple encouraging responses and little else. Take a chance on finding an agent or put in the work to put it out yourself, you'll get a lot more. Possibly some extra income. And that can't do anything but help the aforementioned activities.
Those are the paths open to the writer. The path you choose is entirely up to you.