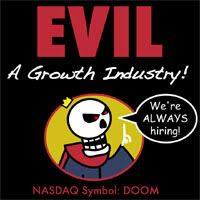 As the process of putting together the Character Bible for The Project winds down, I find myself sorting characters into 'major' and 'minor' categories. One of the characters that's been shuffled into the latter area is one that I thought would be considered more important than he really is. He's one of the antagonists, and the story isn't so much about him as what's partially motivating him, so he's more minor than major. I would like, if I can, to avoid making him or any of my other characters too one-dimensional, but at the same time I want to try and keep my villians' motivations relatively simple.
Not every evil plot needs to be a Xanatos Gambit. Yes, they're interesting and awesome when you can pull them off, but sometimes you can tangle yourself up in your own web so much that you drive your plot forward without taking any time to explain exactly who the bag guys are and what they really want. I hate to beat a dead bloated horse that used to run well, but take a look at Star Wars.
In the first three films, there's something of an overarching scheme to bring down the Republic and raise up the Empire in its place. This could have been handled any number of ways, but Lucas goes about it in the most convoluted canon-destroying way possible. Nowhere in the original films did he mention Force-balancing prophecies, the Jedi being in control of the clone army or the Sith. Now, expanded universe material that exists between the time of the first films and the prequels talks about some of this stuff, but not everybody in the film audience took the time to read all of that stuff. In the course of the films themselves, the motivations of the bad guys go from malevolently straightforward to frustratingly complex.
Consider this scene from the original Star Wars. Remember when we first met Darth Vader?
"Commander, tear this ship apart until you've found those plans. And bring me the passengers. I want them ALIVE!"
In one line, we learn so much about the imposing armored dark warrior. He's driven to find the plans, he doesn't care what collateral damage is involved in the search, but he also wants the passengers alive, probably for interrogation. It's equal parts exposition and character establishment, a lesson well-learned and being taught by the manly magic talking beardface. Hey, he was at Sundance, he knows good stories, dammit.
Anyway, in contrast, so much time in the prequels is devoted to empty, dry, dull expository conversation that tells us nothing of value about the speakers. Palpatine is the only villain approaching something resembling true malevolence, while Darth Maul (or as Confused Matthew calls him, Darth Timefiller) and Count Dracula Dooku are little more than soulless dance partners for the Jedi lightsaber throwho-down.
The point I'm trying to reach is that you don't have to make every villain or antagonist a brilliant chess-playing mastermind. Sure, a Magnificent Bastard character is going to draw in readers and add color to the story, but there's only so much of it a single story can take. Most of the time, it's probably best for your villains to have straightforward motivations so you don't end up getting hoisted by your own evil petard when a reader calls you out for something that's poorly explained.
And for the love of Vader, don't try any of that "Our motivations are far too inscrutable for puny mortal minds to comprehend" bullshit. It didn't work in the Matrix, it didn't work in Mass Effect. I don't think it'll ever work, and I for one am never going to try. Good isn't as dumb as you might think, no matter how much I love that Spaceballs quote.