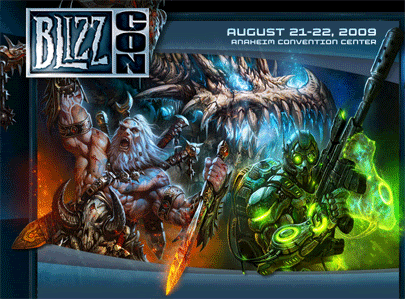 BlizzCon is the annual convention of all things Blizzard, held in Anaheim, California. Panels will be held for all of Blizzard's upcoming products, from class balance in World of Warcraft to the latest buzz about Diablo 3. Given it's location and the rarity of tickets, I always figured it'd be highly unlikely that I'd ever be able to attend the event.
I was apparently mistaken.
I entered a contest at WarCry, sister site to The Escapist, on a whim yesterday. One-day contest, answer a few Blizzard questions and cross your fingers. I thought that the site would be bombarded with nerds like myself trying to win a ticket as coveted as the golden pass to Willy Wonka's Chocolate Factory, and my chances of getting any sort of response whatsoever after hitting the 'submit' button would be between astronomically low and something on the subatomic level. So I all but forgot about it after I sent in my entry.
Apparently, I won.
I got an email from Jeff, brand manager at the Escapist, congratulating me. After restarting my shocked heart, I did a fanboy flounce worthy of a teenager getting tickets to see a favorite band or a meet and greet with Robert Pattinson. But I'm not a teenager. I'm a thirty year old geek with an apartment, a somewhat estranged son, a new fiancée and a very needy cat. So after my excitement cooled down I began to wonder if this would be a practical journey or just a flight of fancy.

It turns out the flight is the problem. I have a friend who's been bugging me to come visit her in California anyway, and she's got a spare room. She also assures me that transporation to and from the convention center in Anaheim is something we can suss out later. So how do I get to California? Well, if I don't fancy taking the time off from work to live out of my car for a few days and smelling up the place when I walk in, I'll be flying.
That's where I need help.
A ticket, with discounts from websites, is likely to run around $300. There's no way I can put that amount of money together on my own – unless I turn to a life of crime or something. So what I'm going to do, dear readers, is turn to you for help.
Below is an image from Blizzard's site for the convention which cleverly disguises a PayPal donation link.
If you want to help me get to BlizzCon, donate as much or as little as you choose.
What do you get for your money, you ask? Other than my undying gratitude, I will be putting together packages of photos taken from inside BlizzCon which I will happily share with you. This space will contain the best shots combined with notes taken from the panels and observations of the goings-on, but if I shoot any videos or anything, they'll come to you personally. In other words, I'll snap a plethora of photos, put them in an attractive and easy to use Flash photo book, and send you the end result as a thanks for helping me fly the friendly skies to California.
(Image copyright Blizzard)
And if that doesn't work, I guess I'll have to rethink how I'm spending that weekend.
EDIT: This entire thing is going to take a lot of thought and I'll revisit it at a later date.
EDIT 2: I think it's more a flight of fancy than anything else.