I have a confession to make. I follow John Green around. I follow his Tumblr. I follow his Twitter. I subscribe to his YouTube channels CrashCourse, MentalFloss and Vlogbrothers. I do this because I believe him to be extremely intelligent and insightful. I deeply admire his goal to, as he puts it, "decrease worldsuck" through the efforts of various charities and the input of the Nerdfighters who also follow him. And he's a New York Times bestselling author, a distinction he's earned for the young adult tale of romance called The Fault in Our Stars.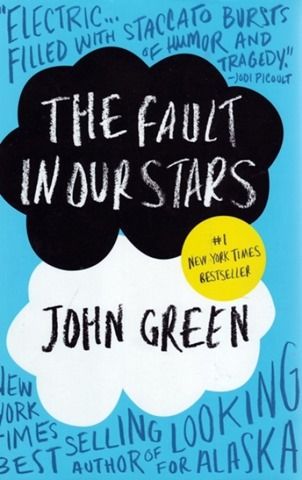 Hazel Grace Lancaster, sixteen years old, is living with cancer. A miracle in an ER and the advanced drug Phalaxifor left her with the necessity of an oxygen tank to help her failing lungs take in air. She's trying to make the most of her time, attending college courses since she finished high school early, but her parents insist she also go to a local support group instead of just staying at home watching America's Next Top Model. Reluctant as she is, Hazel tries to endure, making faces and sharing sighs with her friend Isaac, until the night Isaac arrives with a young man named Augustus Waters.
The first thing that impressed me about The Fault in Our Stars was the reality and intelligence in Hazel's voice. She is not the kind of person to hide from or conceal her feelings or attitude, which is extremely admirable, especially in a teenager. Rather than put on airs or try to be something she's not, Hazel owns her situation no matter what it might be, and is very much the sort of person who wishes to be the master of their own destiny. Her feelings for Augustus do mess with this inner dynamic somewhat, and reading about her difficulty in that regard is just as engrossing as Augustus himself. Charming and intelligent in his own right, it's clear why these two fall in love, despite (or perhaps because of) their circumstances. They're such rich, real characters that you can't help but empathize with them, and it's that empathy that keeps the pages turning.
The Fault in Our Stars presents some complex ideas and deep themes about life, death, identity and the contract between author and reader, but it is not itself a complex read. Green is not interested in any shadow plays or narrative slight of hand. He keeps the story moving and the points simple, yet still weaves an involving and emotional narrative. This is another case in which simplicity in storytelling does not necessarily mean the story suffers. In fact, the simplicity of the plot means there's more room for us to get to know our characters, even minor ones, which makes The Fault in Our Stars come to life in a way that other epic tales might envy.
I cannot recommend The Fault in Our Stars highly enough. It is a rich, involving story of young love and true loss that strikes home with the power and ferocity of a bullet from a high-powered sniper rifle, and John Green has perfect narrative aim. The book will, in most cases, make the reader tear up or even weep openly at times. Every tear is worth it, though, and I hope that more young adult fiction aspires to emulate a story like this as opposed to some of the other stuff that's out there. Young people deserve great stories, and The Fault in Our Stars is one of the best.