In the wake of The Avengers, it seemed like Marvel could do no wrong. And, since Iron Man 3 won't be out for another few months, the jury is still out on their record. However, given the critical and commercial success of the studio's flagship project, and the resurgence of the X-Men label under the skillful hand of Bryan Singer (seriously, if you haven't seen First Class yet, FIX THAT.), Sony Pictures suddenly got a lot of attention, as it had held onto Spider-Man after Sam Raimi left the character behind. People were likely crossing their fingers when The Amazing Spider-Man was released, hoping not only that fans of the original trilogy would like it, but also that Marvel wouldn't ask for its favorite wisecracking web-slinger back.
Being a reboot, we drop in on science student Peter Parker during his awkward teenage years. His parents, rather than simply being absent, abandoned him when he was young, leaving him in the care of his Uncle Ben and Aunt May. Peter's only clue is that his father worked for the major pharmaceutical and scientific research conglomerate Oscorp. He discovers that lovely fellow student Gwen Stacy interns there, and her mentor is one Curt Connors, a one-armed biogeneticist who worked closely with Parker Sr. It is while wandering around the Oscorp building that Peter gets bitten by a genetically enhanced spider that, in turn, gives Peter super-powers. Peter's background with his father's work helps Connors perfect a formula to regrow his arm that also makes him become the Lizard, Gwen's father is a police captain who despises vigilantes, Uncle Ben is shot by a carjacker Peter needs to track down, and it was at about this point in the film I found myself asking a new question every five minutes, only a few of which got answered.
The plot of The Amazing Spider-Man is, to put it simply, a mess. Multiple plotlines are nothing new in narratives, and some tales do benefit from some of them going unresolved within the course of a given story. However, in those cases, one or more plotlines either become superfluous or get completely resolved before the end of the tale. Here, all of the plotlines remain active and ongoing until the very end of the film, and all of them needing to share screen time causes the story to feel disjointed and meandering. It's like all of the writers wrote up scripts separately without ever meeting one another, and director Marc Webb shuffled the pages together into something resembling a cohesive narrative and tossed it at his cast of characters.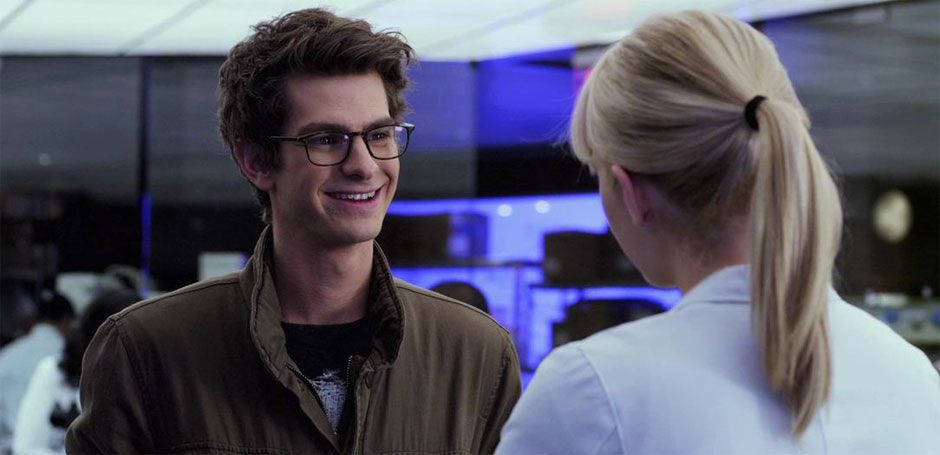 Much as I rag on him, this isn't entirely his fault.
This leads me nicely into the other major problem here: Peter Parker. Not Andrew Garfield, though, I didn't mind him. What struck me is that Peter feels very little like his own character, but rather an amalgamation of popular teen affectations. Peter is something of a loner even in the comic books, but the lengths to which he goes to convey that feels like overcompensation. Peter demonstrates that he has a brilliant mind, a creative way of thinking, and a determination to do the right thing, yet he chooses to wrap all of that in Abercrombie and hair gel and skater gear. I don't know if this was Garfield's intention, but it feels like Peter is already intentionally wearing a disguise long before he gets bitten. And after he gets bitten, aside from his powers, what changes about him? He continues to act as he does before the bite, and after Uncle Ben's death, he simply has another task ahead of him. His final line demonstrates that he's learned nothing about responsibility, continuing to act however he likes no matter what authorities say or experience has taught him. He fails to grow. He has no real arc. He falls flat as a character, and without him feeling realized and sympathetic, the rest of the movie fails to connect.
That's actually a shame, as there are some really talented people involved. Like I said, I didn't mind Andrew Garfield. In full-on snark mode he approaches the modern take on Spider-Man I've seen in the pages of the Avengers. As much as I loved the original pair, Sally Field and Martin Sheen have good chemistry as Aunt May and Uncle Ben, hinting at a genuine, long-standing, and affectionate relationship. Rhys Ifans does some remarkable work as the Lizard, his own face and eyes conveying emotion through the green scaly lens of advanced motion capture. Denis Leary is actually pretty solid as Captain Stacey, and as for his daughter, I could watch Emma Stone reading out of a phone book and be happy. But I'm probably a touch biased. She and Garfield do have decent chemistry of their own, and if Peter had come across as just a little less insufferable and a little more endearing, I probably would have enjoyed this more.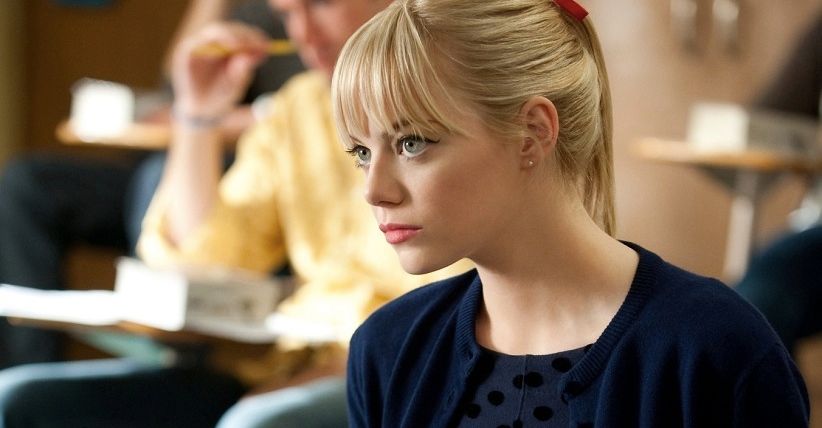 This is definitely not her fault.
The Amazing Spider-Man is a study in failed ambition, misfired potential, and squandered goodwill. There are glimmers, here and there, of something better that could have been made with this cast and this atmosphere. It's a dark film, about as dark as you can make an adaptation of one of the oldest heroes born of the House of Ideas, and some interesting ideas come and go during the running time. A few visual moments really stand out, and as I said, the actors do bring their A game. But between setting too many plotlines in motion and borrowing too many ideas from Batman Begins and Twilight, instead of interest and excitement, one is left with a lingering feeling of disappointment. And that's not how you want your plea to hold onto your super-hero franchise to end.
Stuff I Liked: Spidey did have some good lines. May & Ben were good. I always like seeing Denis Leary. The realization of the web-shooters was a cool little touch, and the scene in the sewer making use of the web was a nice change from some of the other inane decisions being made.
Stuff I Didn't Like: Peter felt a little too much like a hipster douche, and looked a bit too much like Robert Pattinson. Too many plot points go unresolved to actually build much mystery or suspense. Very little of the film actually feels all that tense or exciting.
Stuff I Loved: Emma Stone. Also, Stan Lee's best cameo to date.
Bottom Line: I have seen worse super-hero movies in my day, and hardcore Spidey fans may enjoy this far more than I did, but the degree to which I am disappointed in The Amazing Spider-Man is… wait for it… amazing.