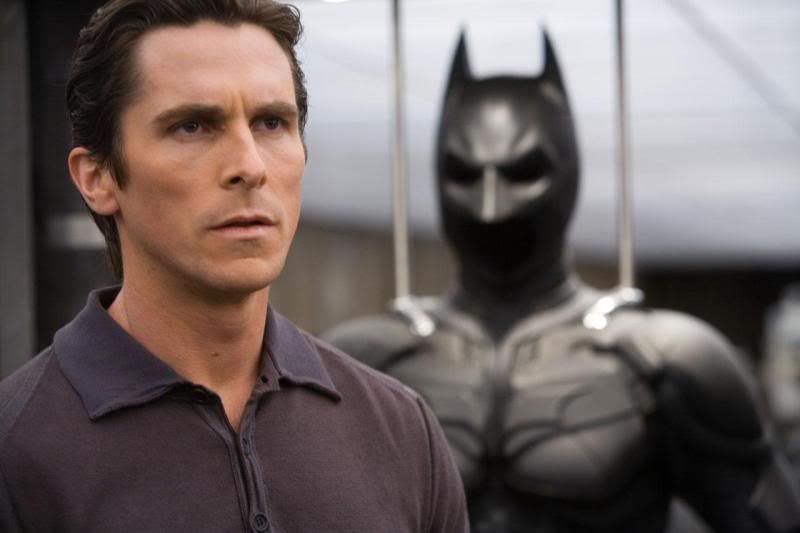 The Dark Knight trilogy is over. Nolan's Batverse is closed, and its story concluded. In the end, what was it all about? What, in the end, was the ultimate point of stripping out the more superfluous and ridiculous elements of Batman, from blatantly supernatural enemies like Clayface to the presence of easy-to-access Bat Anti-Whatever's-Trying-To-Eat-Bruce-Wayne's-Face Spray?
Going by The Dark Knight Rises alone, you might be tempted to conclude "Not very much."
But unlike some movie series who tack a couple movies on after their first one was a success (*cough*THE MATRIX*cough*), I think Nolan had a plan from the beginning with these films. I believe there is a theme that permeates all three stories, in addition to their individual themes of fear, chaos, and pain (in chronological order). By removing the more comic book oriented portions of this comic book story, Christopher Nolan focused more on the characters of this world, and the city they inhabit, showing us what it takes to be these extraordinary people and what sacrifices they must make to preserve their ideals, their homes, and their loved ones.
Ultimately, the Dark Knight trilogy is about perseverance. It's about never giving up.
Hell, there's an exchange that happens multiple times in Batman Begins that underscores this very sentiment:
Bruce: Still haven't given up on me?
Alfred: Never.
The events of Batman Begins shifts Bruce's focus from personal vengeance to protecting the city his beloved parents built and tried to defend in their own way. But this is only a course correction; he doesn't really give up or change his mind. He still has the determination to do what he must to become what his city needs, instead of using that determination to fulfill the desires of his own rage. We're shown this aspect of Bruce rather than being told about it, and it's why so much time is spent on his training and travels in comparison to his gadgets and gizmos. It's why Batman Begins works as well as it does.
The Dark Knight raises the stakes by adding another figure who is just as determined, every measure as fanatical, and more than willing to cross lines that keep Batman from becoming a dark reflection of the crimes he fights. What Heath Ledger did with the Joker was put Batman up against a funhouse mirror, a distortion of his will and never-say-die attitude. Throughout the running time of The Dark Knight, Batman and the Joker play a psychological game of Chicken, each daring the other to divert from their course to cause them to fail. The Joker wants to see Batman destroy himself; Batman wants to see the Joker sabotage his own plans. This makes it not only a tense, involving story from start to finish, but the best movie in the trilogy by far.
What, then, do we do with The Dark Knight Rises, if the stakes were already raised so high?
Here's where Christopher Nolan posits a keen question, one that might have been missed, if we take this overarching theme to its logical conclusion.
"What happens when Batman does give up?"
When The Dark Knight Rises begins, Batman's been retired for years. Gotham City is being controlled by the draconian measures of the Dent Act, and it seems like Bruce's type of justice is no longer necessary. He's let himself decay, felt his resolve erode, and he's even begun to lose faith in the people he so vehemently defended against the menaces of Scarecrow, Ra's al Ghul, Joker, and Two-Face. He lets his guard down. He thinks peace can last.
And that's when Bane slips into the City to tear it down from within.
Bane is the indicator that Bruce giving up was a mistake. He throws Bruce's lack of vigilance in his face. If he had stayed out there, if he had been prepared, Bane might never have gotten into Gotham in the first place. Instead, Bane sets his plans in motion with only minimal resistance, obliterating every obstacle in his path and nearly killing Commissioner Gordon. And when Batman does confront him, Bane breaks him. Bruce's body matches his spirit, and he is left a wreck festering in the bottom of a pit wondering why he's still alive.
This is why the second half of Dark Knight Rises is not, as some might posit, a re-tread of the first. When Bruce dons his cowl for the first time in the film, it's reluctantly. He steps out of retirement because nobody else can do it, and he doesn't even want to himself. Even Alfred knows Bruce's heart has gone out of the fight. When he's broken and left to rot, he must reach inside of himself and find that ember of rage that sparked the fire inside of him, that part of himself that he tried to bury when he gave up being Batman. He has to find his determination again, and when he does, he rises. It's the whole point of the film, and of the entire trilogy.
Why do we fall? So we can learn to pick ourselves back up.
Nolan's always been a cerebral filmmaker, espousing the notion of mind over matter. I believe that his Batman films are no different. Behind the trappings of comic book heroism and colorful villainy, Nolan is telling a story of the power of the determination, of never giving up, never saying die. He shows us where that power comes from, how it behaves when taken to its extremes, and what happens when we lose sight of it. It makes the story complete, coherent, and meaningful. The Dark Knight Rises has its share of problems, but in the end, it stands well on its own, and as part of Nolan's trilogy on the Batman, rounds out the tale of one man's determination to make a difference.
While Joss Whedon may have the chops to pull off this kind of storytelling without taking three movies to do it, I think it's safe to say that most if not all other superhero films coming up in the next few years will be standing in the shadow of the bat.