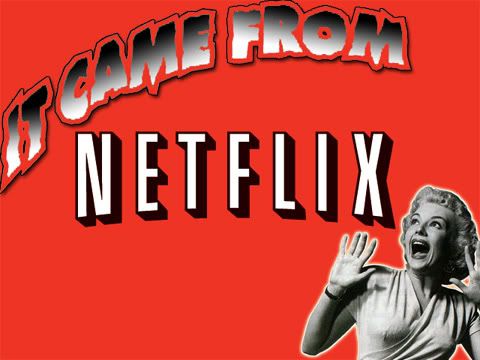 [audio:http://www.blueinkalchemy.com/uploads/bunraku.mp3]
Bunraku is a preposterous title for a film, and also slightly pretentious. It refers not to a character or a location, but rather a type of Japanese shadow play, a theatrical production using puppets that tells broad stories based on archetype and fable. It'd be like naming Flash Gordon "Raygun Gothic Adventure with Queen." Or Taken "Liam Neeson Driven Suspense Action". Or GI Joe: The Rise of Cobra "Giant Letdown." On the other hand, nobody can accuse Bunraku of being less than what it promises in the title, and if someone is disappointed by the film, it should not be on the basis of said promise. And if you're an ignorant Westerner who doesn't know what bunraku is, the opening sequence gives you a demonstration while the narrator sets the scene.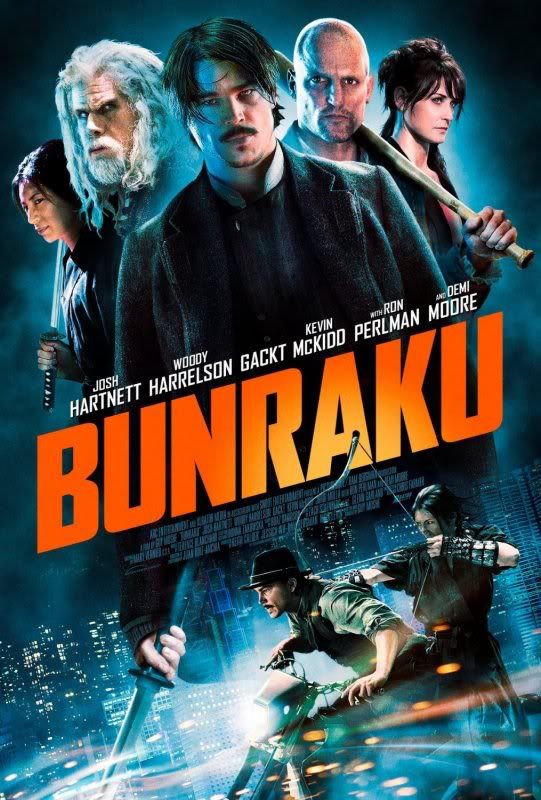 In the not too distant future, mankind has waged war to the point that people have finally taken notice of how atrocious, unnecessary and dehumanizing modern warfare actually is (the actual warfare, that is, not the first-person shooter). Guns are universally outlawed in the wake of some sort of war-driven cataclysm and folks now have to get by settling their disputes with edged weapons and bare fists. The most powerful man east of the Atlantic with these methods is Nicholai the Woodcutter and his nine numbered assassins. Into Nicholai's favorite casino comes a nameless Drifter who's quick and deadly with his hands, while his favorite restaurant's owner has a nephew who's a driven but compassionate and well-spoken samurai. Can you guess how these two strangers are going to get along? If you guessed "they team up to take down Nicholai and the colorful array of supporting trained killers", try not to break your arm patting yourself on the back.
Bunraku is a film that seems to have no time whatsoever for things like character or plot development. What it plays on is themes, mood and metaphor. That said, the character work that does happen isn't all that bad. Josh Hartnett continues to demonstrate the sort of chops that earned Clint Eastwood his immortal spurs, while his samurai friend is played with surprising conviction (if a bit of melodrama) by Gackt. If you can tear your eyes away from these fine specimens of driven and handsome young men, you'll find Woody Harrelson in an understated mentor role while Kevin McKidd give us a villain arguably more memorable than his imposing boss, played by none other than Ron Perlman. The other actors, including Demi Moore, don't have much more than bit roles but we're honestly not here for introspection as much as we are for spectacle of seeing Slevin & an extremely attractive musician take on Hellboy & Poseidon.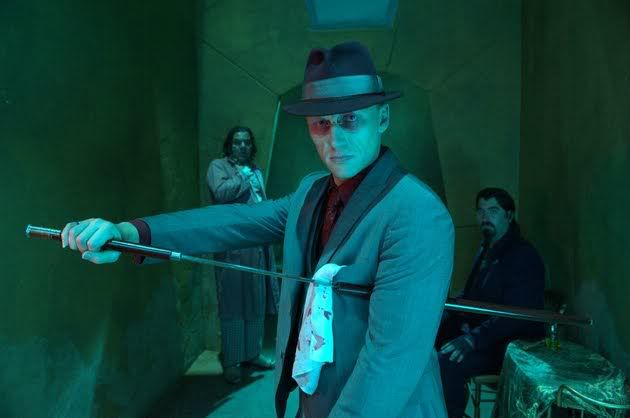 Lucius Vorenus got himself an excellent tailor.
Unlike your typical Hollywood big-budget explosionfest, Bunraku's style comes from its unique setting, composition and pacing. The best thing about it is how stylistically striking the whole production is. Some of the longer shots are truly impressive in their construction, while transitions and even entire scenes are works of art in and of themselves. It's the sort of film where 'eye candy' extends past the attractive cast and bright orange explosive special effects. It's also something of a low-key musical, with a pervasive but atmospheric score adding tension and pace to the many fights, which have the energy and passion of large production dance numbers without everybody breaking into song. With this sort of energy and drive coupled with a unique aesthetic somewhere between a Western and an Akira Kurosawa film, here's always something cool to look at, which means Bunraku will not leave you bored.
It may, however, leave you somewhat empty. As I said, there's very little depth to the characters or plot. Playing as it does on broad themes and the sort of metaphorical storytelling reserved for fairy tales and the like, Bunraku isn't going to set the world on fire with its story. And as impressive as the sets, shots and fights are, many viewers may draw parallels between Sin City or Kill Bill. For better or worse, Bunraku does have a much more diverse color palate than Frank Miller's work and not as much verbosity or as many oblique references as Tarantino's. It's a kissing cousin to these other works at most, and it goes about its simple but stylish little tale with admirable gusto, unfettered by Miller's monochromatic cynicism or Tarantino's obsession with grindhouse flicks and Uma Thurman's toes.
You wish your bartender was this cool.
If anything, it reminds me most of indie darling and Game of the Year, Bastion. The bright colors, vibrant combat, initially simple characters and even the smooth tones of the world-wise narrator immediately bring that experience to mind, in a very positive way. While Bunraku lacks the ultimate emotional depth of that game, it does keep your eyes occupied and imagination delighted for its running time, and on its visual panache and enthusiastic presentation alone I'm going to give it a recommendation. It's not groundbreaking or anything but it's at least trying to go about storytelling in a slightly different way, even if the archetypes and themes are older than dirt, but I'd rather have an older fable told well than a pandering remake or sequel of a recent work take up my time. Although, in the latter case, you can replace the words "take up" with the more accurate and expedient "waste". I'm glad I spent some time with Bunraku, and if you're looking in your Netflix Instant queue for a production with a great deal of panache, a bit of whimsy, some grown-up themes and unapologetic devotion to unique framing devices, I think you will be too.
Josh Loomis can't always make it to the local megaplex, and thus must turn to alternative forms of cinematic entertainment. There might not be overpriced soda pop & over-buttered popcorn, and it's unclear if this week's film came in the mail or was delivered via the dark & mysterious tubes of the Internet. Only one thing is certain… IT CAME FROM NETFLIX.