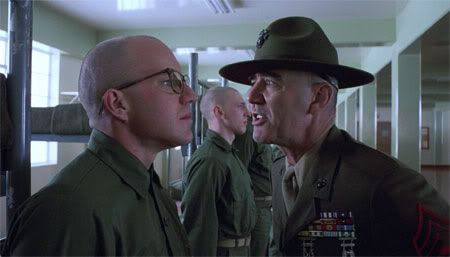 So this section used to be called "Breaking Writer's Block" back in the early days of the blog. However, it has been proven by scientists that writer's block is complete and utter bullshit. In light of this revelation, it's necessary to rebrand this service I'm attempting to provide. So rather than breaking writer's block, we need to look at what writing is. Writing is a skill. There's natural talent involved, but in order to develop it, the skill needs to be trained. Since you're training a skill that at times requires a pencil or pen, I'd refer to it as pen training, or PT if you prefer.
"I will PT you all until you fucking DIE!" – Gunny Hartman, Senior DI, Full Metal Jacket
I'm not going to be that harsh, but what follows is certainly an exercise. Basically, if you find yourself stuck with words running around in your head but stubbornly refusing to jump out, grab some sheets of scrap paper or index cards. You'll need at least five.
Names
On the first sheet/card, write down five proper names. They can be as serious or as silly as you like. If you can't think of any, crack open a book. Especially a gaming book, the first couple pages are full of names.
Actions
Next we'll need some verbs to go with these proper nouns. So on the second sheet/card, jot down five actions. Do more than just name a verb, though, and add descriptors. They should be things like "jumped over," "shoots at", "talks to," and so on. You can also add descriptors on the front end: "viciously punches," "passionately kisses," "breathlessly describes," &c.
Targets
I mentioned shooting as a verb, but the target isn't always being targeted by violence. You'll need the other half of what grammar aficionados will recognize as the predicate. On your third sheet/card, write down some objects or people to be affected. "the car," "Steve," "that annoying client" and "the wall" are just a few examples. We're going for creativity, not necessarily realism, so go nuts.
Extras
Subject & predicate alone make sentences, but they can be a little boring, so on the fourth sheet/card you've got, jot down some extra descriptors. Again, this is a creative exercise, so don't limit yourself. Things like "with a rebel yell," "in space," "because the rum was gone" and "for no apparent reason" all qualify.
Mix & Match
So you've got one black workspace left. Fill it up by taking one element from each of the four previous pages and making a sentence. Once you use something, cross it out so you don't repeat yourself. You should end up with five sentences that look something like this:
"Chuck viciously punched the wall with a rebel yell."
"Bill jumped over the car in space."
"Sam passionately kisses Robert for no apparent reason."
Hopefully you're laughing a little at these. That's part of the point. Laughing releases endorphins, which along with the creativity used to put these sentences together, is sure to help break up that writer's block authorial obstruction.
NOW DROP AND GIVE ME 5. …sentences that is.